Health Reports
Liver diseases: treating with stem cells
In Canada, 1 in 10 people live with liver disease. Approximately 5,000 people die from it each year, while only 400 receive a liver transplant. Such public health statistics help motivate Dr. Massimiliano Paganelli in his research.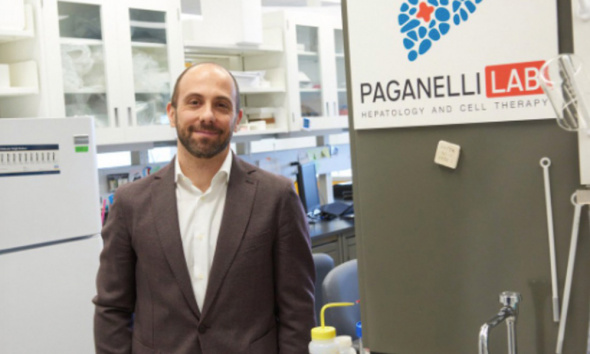 There is little treatment to cure a diseased liver. Liver transplantation is the primary solution to acute or chronic liver failure.
Unfortunately, organ donations do not meet the demand, hence the need for more stem cell research. This is where science fiction may soon give way to reality.
The hepatology work of Dr. Massimiliano Paganelli, clinician-researcher at CHU Sainte-Justine, and his team focuses on the treatment of rare or orphan genetic diseases, as well as acute and chronic liver failure.
Liver diseases and their treatments
Orphan liver diseases are characterized by a DNA mutation that causes an organ defect with significant consequences throughout the body. The liver is severely damaged due to liver damage, leading to serious complications and, often, the death of the young patient.
Since there are very few drugs available to treat these diseases, transplantation is, in most cases, the only possible solution.
Liver failure, on the other hand, is generally the result of the progression of several liver diseases. Responsible for serious complications, such as hepatic encephalopathy or ascites, it causes thousands of deaths each year in Canada. Here again, transplantation is the treatment of choice.
However, the complications inherent in the surgery, the need to take lifelong anti-rejection drugs and the deficiency of certain organs have prompted researchers to look for alternatives.
Two axes of research
These findings have led to two main axes of research currently in the preclinical phase:
The in vitro (laboratory) creation of models of rare liver diseases, for a better understanding of their mechanisms and the discovery of new treatments.
Treatment of liver failure using cell therapy and regenerative medicine
From stem cells, hepatocytes are generated in the laboratory. They are used to study rare genetic diseases in order to discover and test new drugs. Using this approach, Dr. Paganelli's team has created the first in vitro model of type 1 tyrosinemia, a rare but particularly common liver disease in Quebec.
As per the second axis, cell therapy and regenerative medicine for the treatment of acute liver failure, Dr. Paganelli's laboratory has developed a pioneering technique to encapsulate liver organoids in a new-generation biomaterial.
These organoids are cells that will replace liver functions for the time it takes for the organ to regenerate, without anti-rejection treatment. Their implantation will allow patients to benefit from minimally invasive surgery rather than having to undergo a transplant.
Clinical studies are expected to begin in two years. Ultimately, this treatment could save the lives of thousands of children and adults around the world. However, in order not to give false hope to patients, Dr. Paganelli says that for the time being these are animal studies.
Funds to advance research
Dr. Massimiliano Paganelli's work is so impressive that he was the first researcher outside the United States to receive the Gilead Science 2015 International Research Scholars Program in Liver Disease Award – The Americas.
This award is not only prestigious and coveted, but also recognized as ethical. Indeed, the biopharmaceutical company that awards it plays no role in research, and any use of its products is prohibited.
The leverage effect of this initial funding was extraordinary, and other support soon followed. The most significant funding for the organoid project came from the Stem Cell Network.
The Canadian Institutes of Health Research (CIHR) then followed suit with a 2017 early career investigator grant in reproductive and maternal, child and youth health. More recently, he was awarded almost half a million dollars through the Project Grant Program.
The CHU Sainte-Justine Foundation and the Quebec Cell, Tissue and Gene Therapy Network have also supported his projects, as well as the Fonds de recherche du Québec - Santé. Finally, the Ministère de l'Économie et de l'Innovation supported the transition of his discoveries towards the industry.